Employers Want Us To Monitor Their Covid Vaccination Program
In the last few months, employers have contacted asking if we can monitor an employee vaccination program they are considering implementing. We expect and are planning for more and more of these requests in the coming months, as it only makes sense that employers would use the vendor that screens their job applicants with background checks, E-Verify compliance, and manages their random drug testing programs to assist and ensure compliance.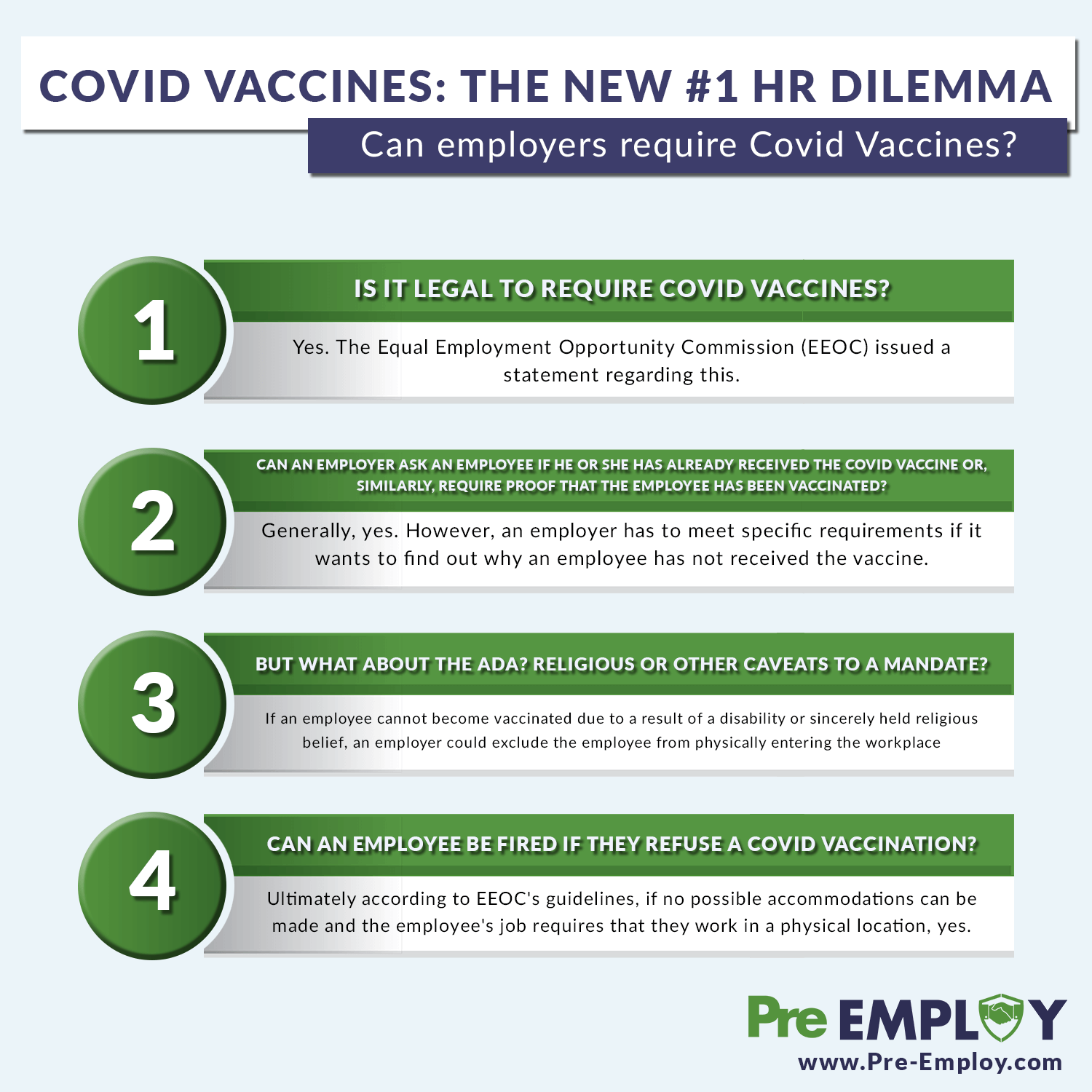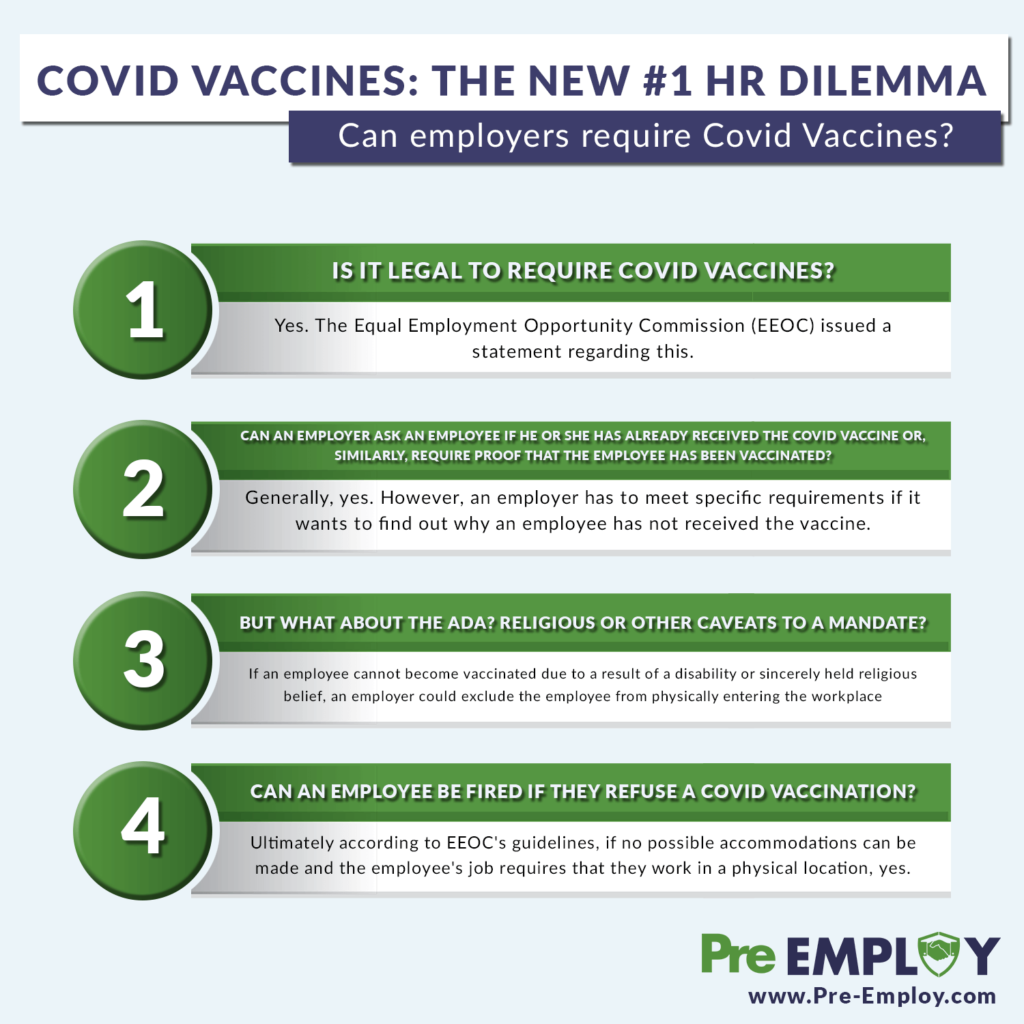 As we all know this can be a heated topic in the workplace, so here are the essential considerations you should make before implementing a program in your workplace: 
Is it Legal To Require Covid Vaccines?
Based on the latest guidelines, the answer is generally Yes. The Equal Employment Opportunity Commission (EEOC), which will likely be the administrative agency that oversees this issue in the coming months, issued guidance recently clarifying that employers do have a right to require vaccines among employees. 
It's stated according to EEOC that equal employment opportunity laws "do not interfere with or prevent employers from following CDC or other federal, state, and local public health authorities' guidance and suggestions."
They also specify that COVID-19 is considered a Direct Threat and confirmed in its guidance specific to COVID-19 vaccination that the ADA allows an employer to have a qualification standard that includes: "a requirement that an individual shall not pose a direct threat to the health or safety of individuals in the workplace," such as a vaccination requirement. 
Can an employer ask an employee if he or she has already received the Covid vaccine or, similarly, require proof that the employee has been vaccinated?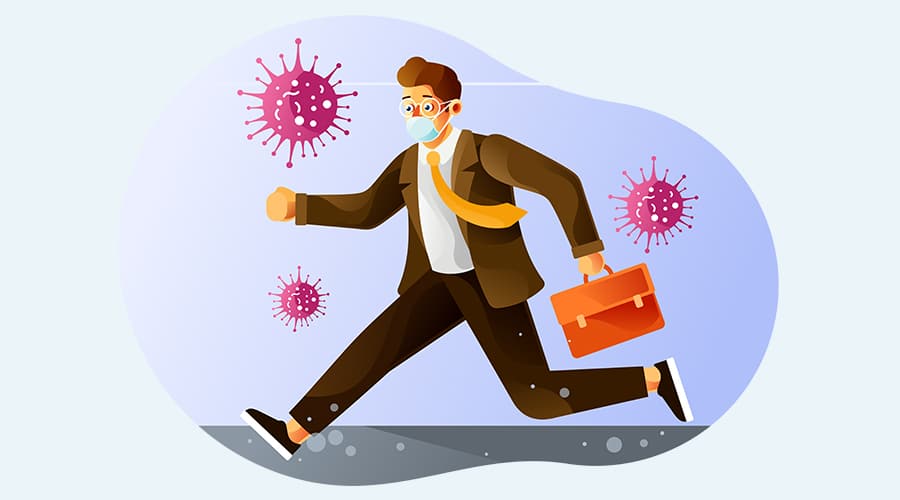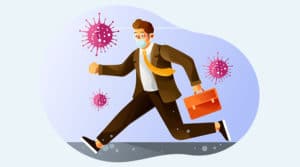 The National Law Review wrote a great piece on this (4) and stated:
Generally, yes. The EEOC guidance explains that these particular questions do not constitute a "disability-related inquiry" because an employee may choose not to have the vaccine for various reasons wholly unrelated to any medical condition. However, an employer has to meet specific requirements if it wants to find out why an employee has not received the vaccine—questioning the employee about the reasons that individual has not been vaccinated does constitute a "disability-related inquiry" because of the possibility that it will elicit information about a disability.
That inquiry can only be made, according to the EEOC, if the question is "job-related and consistent with business necessity," as provided under the ADA. 
To meet this job-relatedness standard, the employer will need to establish that the worker's failure to be vaccinated would pose a "direct threat" to that employee's well-being or others with whom the employee would have contact part of his or her job duties. Language elsewhere in the EEOC pandemic guidance suggests that an employer should establish that "direct threat" standard if the employee has significant contact with other workers or third-parties as part of performing his or her job duties.
But what about the ADA? Religious or other caveats to a mandate?
If an employer plans to mandate vaccinations, they really should think ahead (and, of course, talk with legal counsel) about the circumstances where an employee refuses to take the vaccine for religious or disability reasons. 
Theoretically, a doctor note claiming a psychological fear of needles could be all that is needed for a medical/mental disability claim. Similarly, a sincerely held religious belief exemption can be easily stated, requiring employers to find reasonable accommodations. 
In a recent article posted by SHRM Johnny C. Taylor, Jr., SHRM-SCP, the Society for Human Resource Management's president and CEO, he summarizes this point well. ( 3)
"If an employee cannot become vaccinated due to a result of a disability or sincerely held religious belief, and there is no reasonable accommodation possible, an employer could exclude the employee from physically entering the workplace," said Taylor. "But this does not mean an individual can be automatically terminated. Employers will need to determine if any other rights apply under the EEO laws or other federal, state, and local authorities." 
Can an employee be fired if they refuse a Covid vaccination?
Ultimately according to EEOC's guidelines, if no possible accommodations can be made and the employee's job requires that they work in a physical location, yes. If an employer feels that they pose a direct threat to the workplace's safety and/or others an employee can be lawfully terminated.
Ultimately, if an employer plans to require the vaccine, we recommend developing a written policy with assistance from their legal counsel for legal protection purposes in addition to a proper vaccination monitoring program.
Going into the spring and summer of 2021, it appears vaccine mandates are coming, and as all of us in the Human Resource or Investigation fields know, there is only one other certainty… The lawsuits will always follow. Reach out to my team at Pre-employ if you have any complicated hiring questions that we can answer for you.