The Complete Guide to Background Checks
If you are an employer on a quest to find the perfect person to take on a role within your company, you may be realizing the process to achieve this is anything but simple. From reviewing resumes to interviews, you may still have several candidates to choose from, and now you need to begin further verifying their information to narrow down the field.
Background checks are some of the most essential tools in your hiring toolbelt to accomplish this goal. But, understanding the scope of information you can receive, along with how to use these details legally, can be confusing.
As a premier background check service, Pre-employ helps our clients every day with pre-employment screenings, and we do this with a combination of reports targeting specific aspects of a candidate's work history, education, references, and more.
After reading this article, we hope you will better understand how to utilize compliant background checks as part of your future hiring processes.
What Do Background Checks Reveal About Candidates?
The first thought that comes to mind when you think of the term "background check" is criminal history. Nearly every hiring manager that runs a pre-employment screening will need a criminal background report, and this is usually just one of several investigations that get requested. Job roles come with many different qualification standards requiring verification before deciding to hire an individual. You may need to look into one's educational background, previous address history, or even their financial records to ensure they are ideal and qualified for the responsibilities their new position requires.
While ensuring your current staff and customers' safety is critical, you can see many additional aspects of a candidate's background that can affect their overall fit with your company. This is why a background check isn't just a single screening but often involves several investigation layers.
---
---
Why you choose to run an employee background check could be due to several reasons. If you are a firm that requires employees to have a specific level of government security clearance, for example, this search may be mandatory. But, private employers need this type of employment screening, too. Ensuring that anyone you bring into your company will not compromise the safety of your assets, employees, and consumers is equally as important.
Employee background checks are broadly defined, and service providers offer different features, though these typically investigate an employee's criminal, work, and financial history. The information found on these reports and how it gets used in your hiring decision-making must follow the Fair Credit Reporting Act (FCRA).
This is federal legislation that protects information and how it is used promoting the accuracy, fairness and privacy of information.
Depending on the screening parameters, you will likely receive some or all of the available information about your potential hire below:
Address history

Criminal records

Credit information

Education details

Professional licensing

Previous Employment History
Again, this is just the basics. Comprehensive employee background checks involve additional search reporting specific to the job role you are trying to fill.
Many of us want to give our potential employees the benefit of the doubt with the details they share with us on their applications. Unfortunately, hiring comes with risks that could endanger our business, employees, and consumers if we don't perform due diligence when vetting candidates.
A Social Security Number (SSN) Address Locator Search is a great tool to verify employee details like previous names used and address locations to perform a more thorough criminal background check.
By identifying any other jurisdictions they may have lived in, you can make sure there are no gaps in their submitted application when it comes to any possible criminal history. Specifically, running an SSN Address Locator Search through Pre-employ will provide insights on several focus areas, including:
Locating potential names and addresses associated with that SSN

Red flags like withheld address history or aliases that would warrant further investigative search requests

Broader result field
No decisions should be made upon this search. It's an investigative tool. Its basis is to gather as much information to investigate, for a more robust background check. Still, it is a critical step in getting additional data to aid in making such determinations.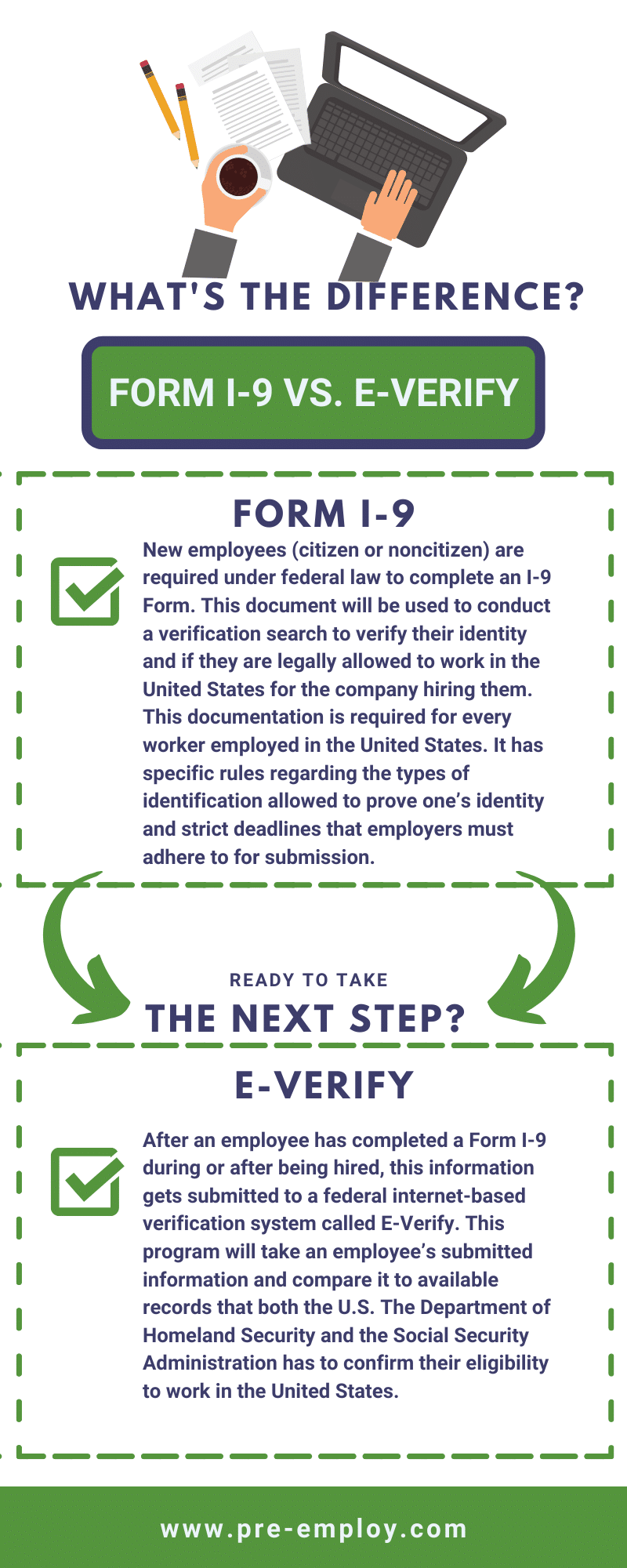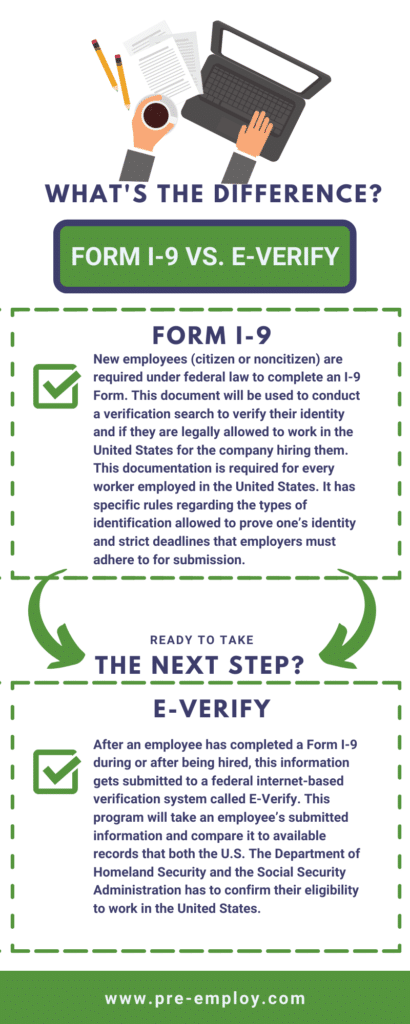 Employers in the United States are required by federal law to verify that anyone they hire has the right to work in our country, which means they must be identified and have their eligibility verified. The Form I-9 must be completed and then submitted for verification through the federal E-Verify program, an online service that compares I-9 data against government records. Below is a brief overview of these helpful tools:
Form I-9
New employees (citizen or noncitizen) are required under federal law to complete an I-9 Form. This document will be used to conduct a verification search to verify their identity and if they are legally allowed to work in the United States for the company hiring them. This documentation is required for every worker employed in the United States. It has specific rules regarding the types of identification allowed to prove one's identity and strict deadlines that employers must adhere to for submission.
E-Verify
After an employee has completed a Form I-9 during or after being hired, this information gets submitted to a federal internet-based verification system called E-Verify. This program will take an employee's submitted information and compare it to available records that both the U.S. The Department of Homeland Security and the Social Security Administration has to confirm their eligibility to work in the United States.
This is not a mandatory step for every employer, unlike the Form I-9, unless involving contractors[BL2] , federal employees and subcontractors working for the federal and/or state government. Some states also make it mandatory for employers to use the E-Verify system, as well. Companies in areas where this is not a required step often use this verification system as an additional step in their hiring process. 
Pre-employ brings a cutting-edge software solution with an electronic Form I-9. Reclaim valuable work time by using an automated I-9 compliance process that seamlessly integrates E-Verify solutions. This combination of services significantly reduces processing times while adding the benefits of reliable, online document management through a secure client portal. Companies depend on our built-in onboarding tools to streamline their new hire processes.
Many industries require employees to be drug-free and physically up to the task of their work. From truck drivers to RNs, occupational health screenings and pre-employment drug testing can not only benefit your business but ensure the safety of your employees and customers beyond background checks. While the benefits of conducting random drug tests have been long established, including comprehensive occupational health exams to ensure your team members are up to their roles' physical requirements is critical before and after hiring.
Pre-employment Drug Testing Services
Pre-employ has included a simplified approach to drug testing that is easily incorporated with our other background check services. Our clients choose between instant testing or a multi-panel lab-based process to determine if an employee is currently using illicit or prescription drugs in an abusive manner. 
All testing results include provider participation in our national network and the use of certified testing labs and trained reviews by licensed medical officers.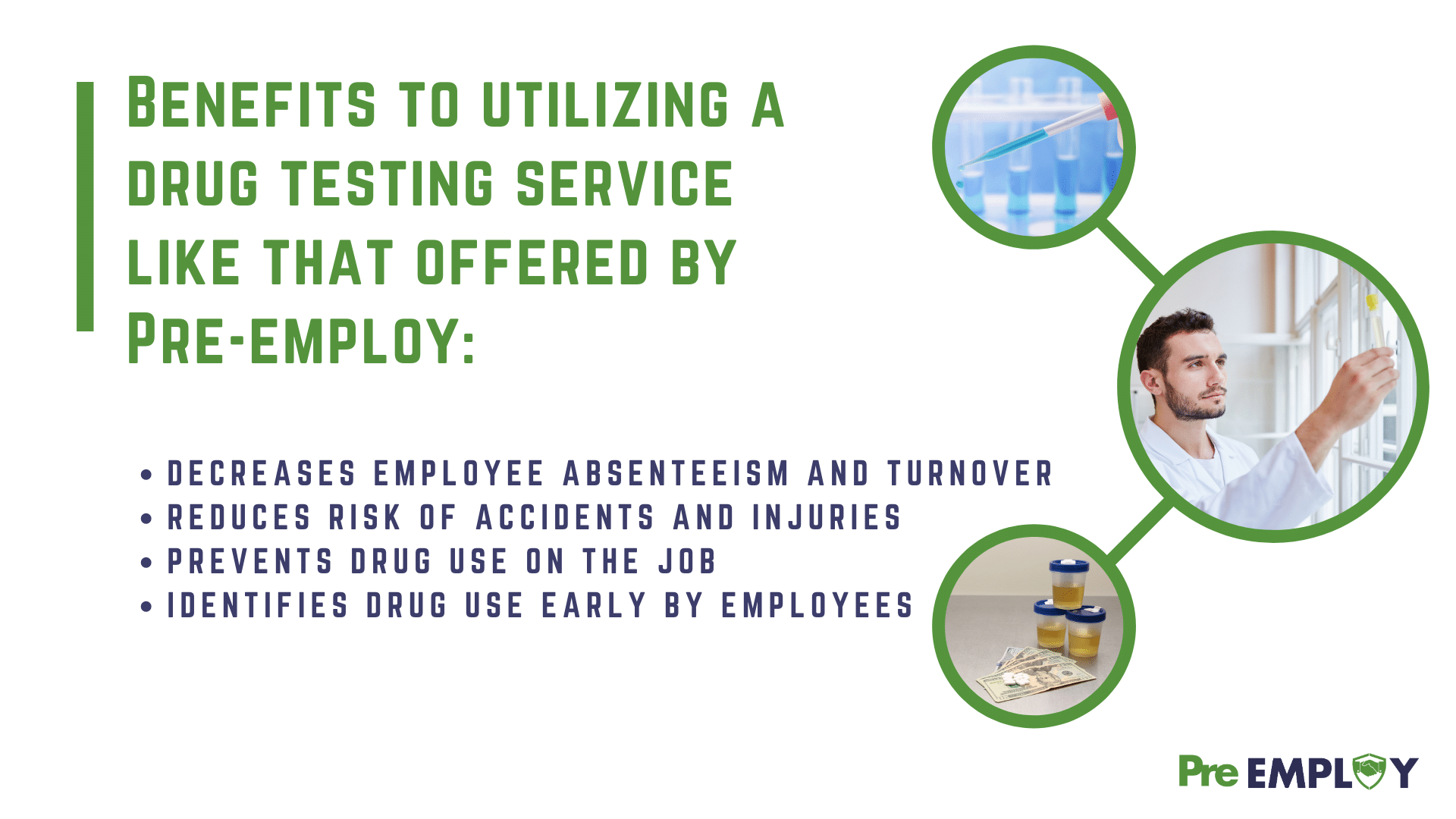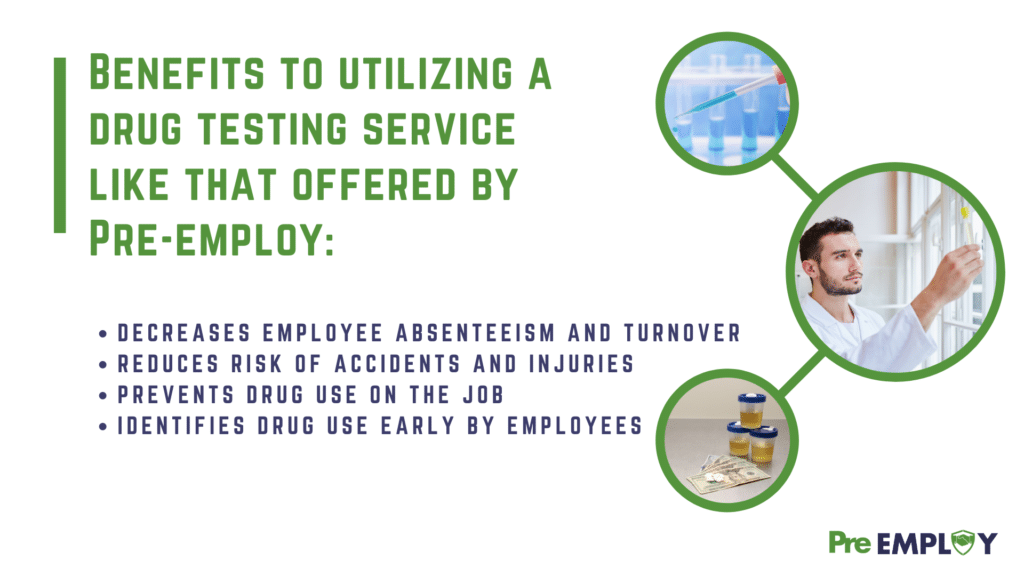 What sets our firm apart from the rest is our use of a state-of-the-art web portal that provides access to not only our drug testing services but other background check options, as well[BL3]  includes the expansive network to allow more close to home facilities. Even better than this centralized access approach is our ability to integrate our software with your existing API, bring automation and convenience to the next level.
OCC Health Screenings
When you need to be sure that an employee or candidate is up to the job's physical requirements, having them undergo an occupational health check can be a wise investment in preventing work-related injuries.
Pre-employ offers OCC Health Screenings that quickly scale to your needs, and once set up, your employees and candidates have control over setting their appointments. As a background check service that relies on automation and artificial intelligence (AI) to streamline your workflow and make access to these services more effortless, you will be aware of compliance risks, create authorizations, and even e-chains, are tailored to company needs. 
Outside of pre-employment screening, our OCC Health Screenings are also invaluable in situations involving post-accident evaluations, return-to-duty processes, and issues surrounding reasonable suspicion.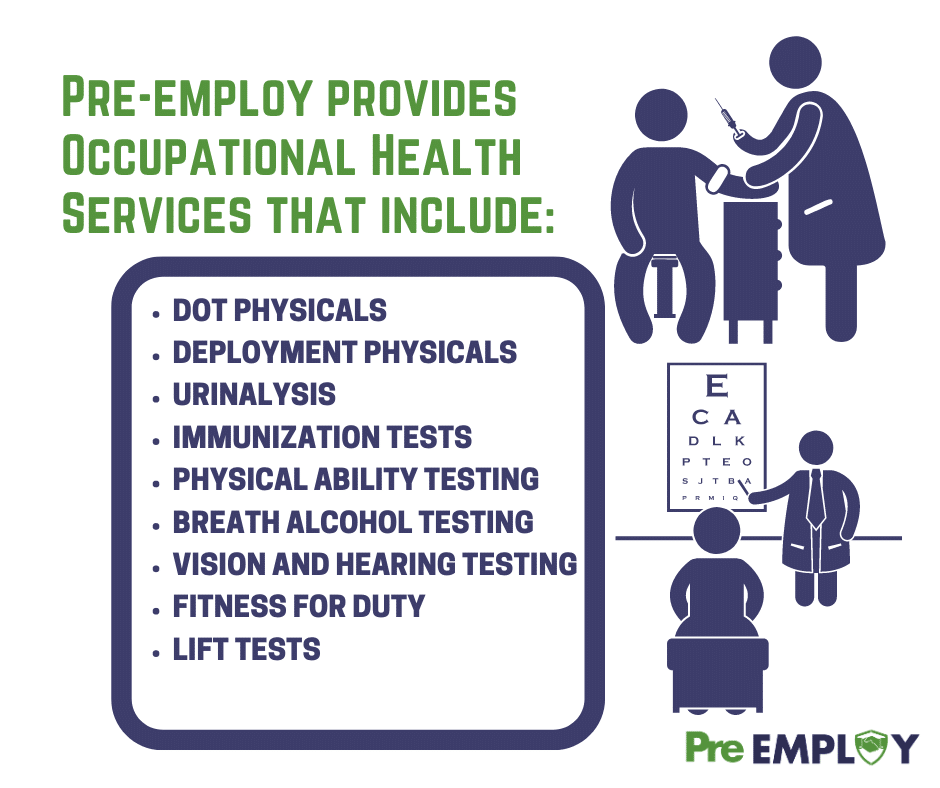 If you are part of an industry that requires drug testing and occupational health screenings, we help you maintain compliance by ensuring DOT-related services meet FHA, FMCSA, FAA, FRA, FTA, PHMSA standards.
Another background check that is worth considering is Motor Vehicle Reporting. This search can be conducted on a state level and verify an employee's current license status and any traffic or criminal violations they might have.
Most U.S. states only report the previous three years of history, though some may let you go back as far as ten years. Because these searches are based on a state-issued license, it won't automatically show records in other states. You will need to approach them all separately if appropriate.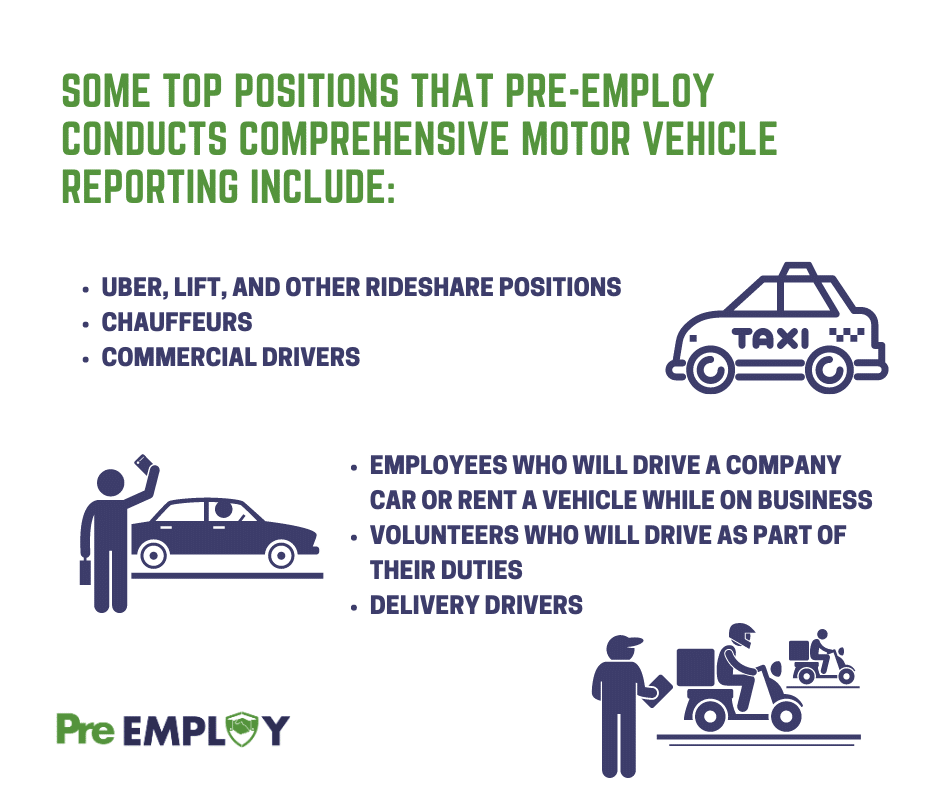 Having insights into a candidate's behavior behind the wheel is a vital liability precaution every hiring company should make an effort to obtain[BL4] . Whether there is a history of DUI or failing to pay parking tickets on time, all of these factors can indicate significant issues down the road which could be prevented. This means you not only keep employees and customers safe but also help control expensive commercial car insurance premiums.
Another type of background check you may want to include within a comprehensive pre-employment screening is a Nationwide Wants and Warrants search. This report contains a query of all state and federal warrants that are active and/or extraditable, which may reveal[BL5]  many misdemeanors and felonies on the employee being investigated.
Pre-employ accesses this data through government agencies and organizations throughout the United States, including:
State department of corrections

Federal Bureau of Investigation (FBI)

Drug Enforcement Agency (DEA)

State and local courts

Federal, state, and local law enforcement databases

Probation and parole boards

United States Marshal Service
Pre-employ conduct searches of this nature for employers in numerous industries. From healthcare facilities that deal with vulnerable patients to government agencies requiring higher security clearance levels, knowing if a warrant has been served, withdrawn, or even vacated on a candidate or current employee. 
The types of warrants this search can uncover: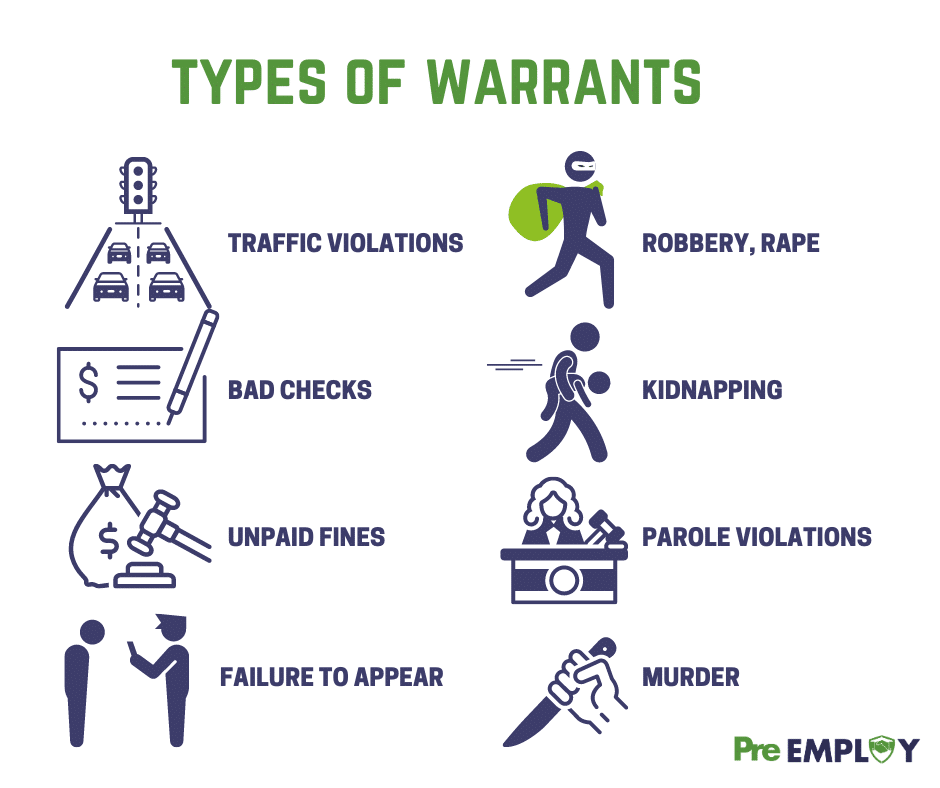 When you receive warrant information, a reason is given for its issuance and contact information for the agency responsible for it. This information can ensure that you are aware of the legal situations your employee may be involved with, but don't use this report alone as a sole defining factor for hiring or not. Sometimes, simple matters like an out-of-state parking ticket can trigger warrant scenarios. Consideration of the information provided in this report is essential as a warrant doesn't mean someone is guilty of a crime.
Verifying the educational background of a candidate is critical when making a hiring decision. You want an individual in your job role who knows how to do the job and has the training completed to ensure it.
Conducting an Education Verification search will provide you with the confirmation you need any training, certification, or schooling a candidate claims to have received is free of discrepancy and accurate.
Also known as an education background check, Pre-employ will confirm education and degrees obtained received[BL6]  at:
High schools

Universities

Vocation schools

Colleges
This information provides a myriad of benefits to employers because our resources can access these records more quickly, making it possible to hire candidates quickly while mitigating the risk of hiring someone who provided false credentials. For some positions, these reports are necessary for compliance with state and federal regulations.
If the job role you are filling requires a candidate with special training and licensing, Pre-employ also provides a comprehensive professional license verification service. This is a common request from our clients in many industries.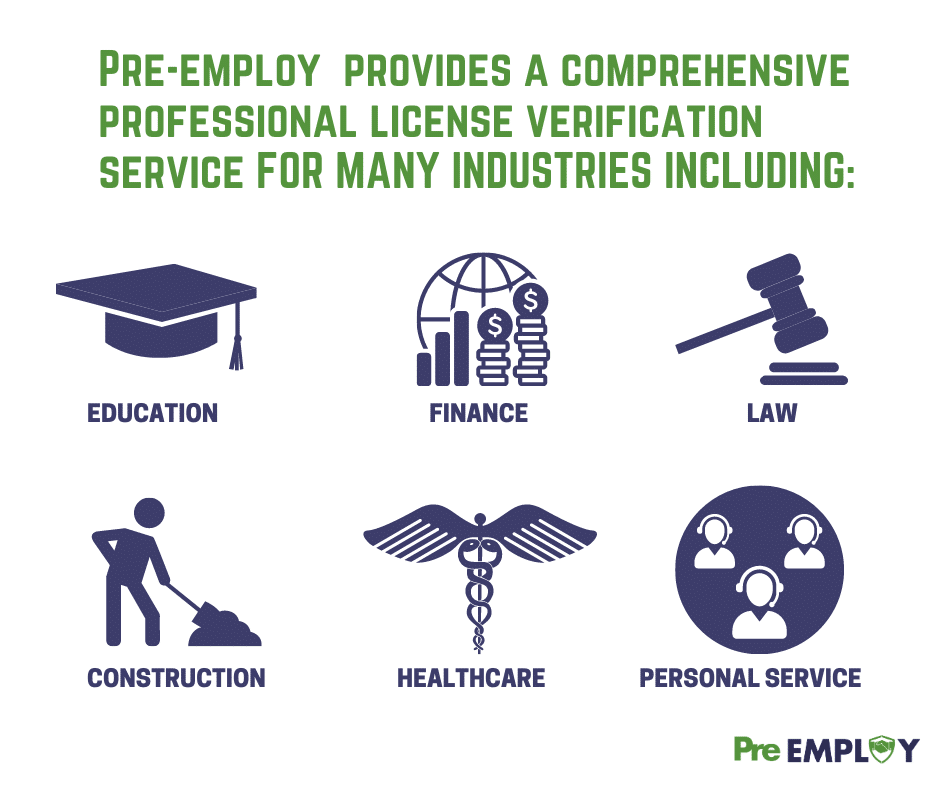 When ordered, important information like enrollment dates, the status of a license, completion of degree programs, and institutional details are shared with the employer.
Sometimes confused with a Work History Check, a Professional Reference Verification is another useful hiring tool during the screening and hiring process. These types of references provide more insight than simply work dates and functions within a company.
Employers who request that Pre-employ conduct this type of verification will learn more about a candidate's reputation, soft skills, and character that a standard work history screening doesn't provide.
Some of the top reasons we recommend employers consider conducting a Professional Reference Verification include:
Get a comprehensive understanding of how a candidate performs in a workplace

Have a more intimate knowledge of the reputation and trustworthy nature of a new hire

Make an overall determination about the kind of fit they would make in your job role

Acquire more detailed insight when making a hiring decision
Keep in mind that when conducting this check, Pre-employ contacts your applicant's previous employers, supervisors, and named references. We ask these parties specific questions that are open-ended in nature. Once completed, we will provide you with the complete answer [BL7] of the discussion for you to review. 
While you can reach out to these individuals on your own, the process can be time-consuming. Our team can assign multiple members to track down given references and conduct lengthy interviews of these individuals on your behalf. At the same time, you can focus on more important tasks throughout your day. You can trust our team of knowledgeable professionals to ask the right questions and get you the insights necessary to make a hiring decision sooner than later.
One of the first lines of defense against bad hire risks for any health care agency is conducting an OIG/GSA-SAM Background Check through Pre-employ. Under federal law, providers who are on an exclusion list cannot receive healthcare funding[BL8]  and include additional penalties as a result.
Suppose you hire someone who has been sanctioned for patient abuse, committing health care fraud, or other similar offenses. In that case, you jeopardize any payments your current organization receives from crucial assistance programs.
When considering the hire of a doctor, nurse, or medical professional, there are several primary healthcare databases we search to ensure they are eligible for employment with your agency, including:
List of Excluded Providers and Entities

System for Award Management
Currently, the federal Department of Health and Human Services and the Office of the Inspector General (OIG) maintain databases that contain information regarding individuals who were convicted of crimes related to:
Health care program fraud

Defaulting on a health education assistance loan

Licensing board actions against them and other related issues
This database is known as the List of Excluded Providers.
In addition to this pool of information, Pre-employ can also check the Government Services Administration's database (GSA). This agency is responsible for overseeing federal contracts and updating information on those who cannot do business with the federal government, including industries outside of Health and Human Services.
Some industries are mandated by law to run an OIG check since hiring someone on its sanction list could cost the hiring company stiff fines and other penalties.
If you are part of a business or need to fill a position where an employee would contact vulnerable individuals or with the general public, a Sex Offender Registry Check can help you quickly identify candidates that pose a safety risk to those populations.
When requesting a National Sex Offender Search, Pre-employ any of the relevant information found below about your candidate should they appear in a registry:
Individuals convicted of certain sex crimes have to register with local law enforcement agencies their current whereabouts. For some, this is for a limited period of time, while for others, it is a lifetime responsibility that carries criminal consequences if they do not comply. All 50 states currently have registration requirements for individuals convicted of committing certain sexual crimes. Though, a few states may not include low-level sex offenses.
Pre-employ conducts these searches with the utmost discretion and will send our findings to a secure client portal for you to access and review.
Fraud and Abuse Control Information Systems (FACIS) database keeps records of adverse actions taken against individuals working within the healthcare industry. This effort helps healthcare organizations maintain regulatory compliance and protects them from hiring individuals who have been previously debarred, excluded, or received reprimands and probationary disciplinary action.
FACIS Level 1M 
A FACIS Level 1M background screening is the minimum baseline search for those hired or employed by organizations receiving federal funding for governmental healthcare programs they participate in. The standards this search complies with meet and exceeds those determined by the Office of Inspector General (OIG) Compliance Program Guidance. This Level 1M query also includes checking the Systems for Award Management (SAM) and the List of Excluded Individuals and Entities (LEIE). State and federal employees will be screened in these and hundreds of other database exclusion lists for instances of debarments and other disciplinary actions taken against them.
This screening can be made recurring so long as permission and required authorization are received before the request. Ongoing monitoring with evergreen consent and approval is available so long as implemented when an employee is first hired. Pre-employ recommends a recurring solution and makes it a straightforward experience with simplified automation tools that reports any new exclusions, adverse actions, or debarments of current employees or authorized vendors.
FACIS Level 3
Considered the industry gold standard, a FACIS Level 3 background check provides the most comprehensive analysis of a candidate or current employee in the healthcare industry. This search includes sanctions and exclusions data from all federal and state databases, including state sanctioning boards from all provider types in the 56 U.S. jurisdictions, such as:
State Attorney General

Medicare Opt-Out Lists

Medicaid Exclusion Lists

State Medicaid Exclusions

State Contractor Disqualification & Debarment Lists

Federal District Attorney General

HEAT Task Force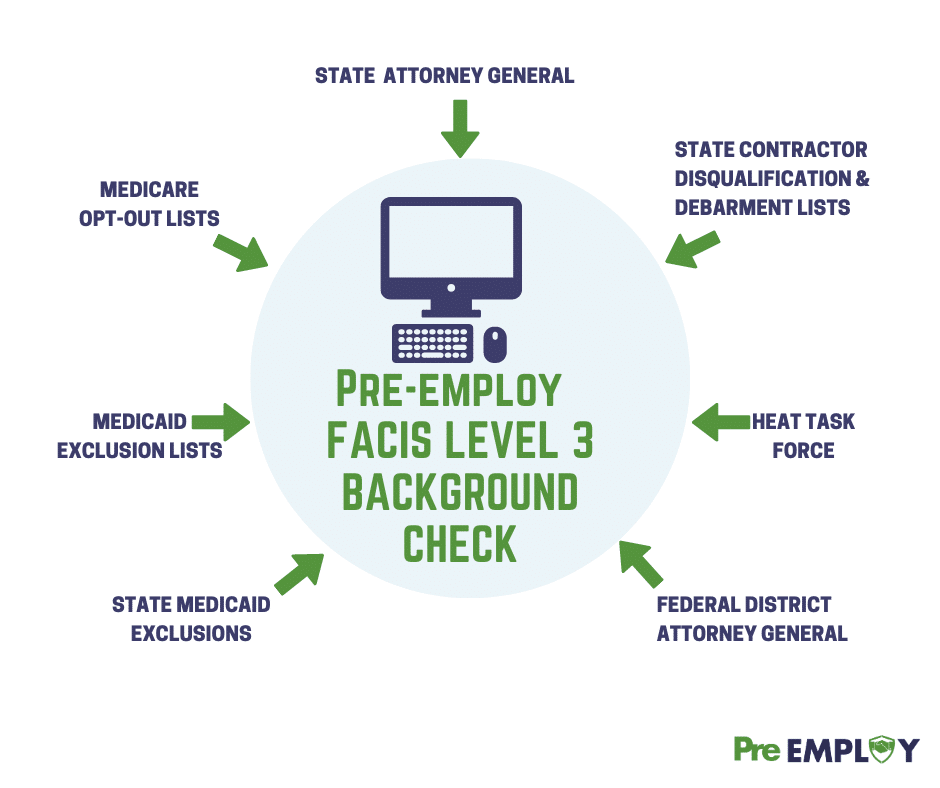 Determining which FACIS level is appropriate for your hiring needs is vital to overall patient safety, mitigating civil penalties, and maintaining state and federal compliance demands. As one of the most trusted databases available for screening healthcare industry members is a critical background check tool that Pre-employ is proud to offer.
Discover Comprehensive Background Checks By Pre-employ
Whether you are a hiring manager learning the latest pre-employment background check tools available or looking to create a comprehensive screening process for your company to improve workflow and mitigate bad hiring risks, Pre-employ is here to help.
Our firm understands that organizations need fast, effective, and reliable background screening services to make safe hiring decisions and secure the best talent available in your market.
Our clients enjoy a customized background check software product that leverages automation and AI to eliminate troublesome bottlenecks in your workflow. We also ensure that you remain compliant and minimize costly human errors while still providing award-winning customer service and highly trained support staff that is PBSA certified on FCRA. With our convenient and intuitive client portal, you get a centralized location to store your search requests, custom API integration options, and candidate progress monitoring.
At Pre-employ, we provide advanced technological solutions that benefit any organization we support, regardless of your size or geographical location. We provide a balance between data and human touch so that you receive superior customer support, reliable data, and unmatched candidate experiences, which are all backed by a 100% US-based team of experts standing by to assist with your service needs. Request a quote today to learn more about our employment screening solutions.